Since 1914, police officers in urban areas have seen the need for better relations between the police and local youth as a means of reducing crime and promoting wholesome play under proper supervision. In that spirit, the first Police Athletic League (PAL) in the greater Philadelphia area formed in North Philadelphia in 1947 "to build positive relationships between youth, the communities in which they live, and the dedicated men and women of the Philadelphia Police Department." Since its inception, the organization has provided neighborhood youth with a sanctuary from the criminal activities that plagued major urban areas.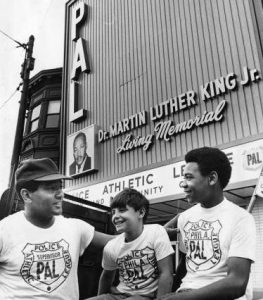 An off-duty officer talks with teenagers at a Police Athletic League center in 1971. Locally, PAL formed in 1947 to build relationships between youth, their communities, and the Philadelphia Police Department. (Special Collections Research Center, Temple University Libraries)
The Police Athletic League originated in New York City, but quickly expanded to other cities and towns over the course of the twentieth century. In New York, Police Commissioner Arthur Woods (1870-1942) and Captain John Sweeney (1879-1963) founded PAL in 1914. Seeing the need for better relations between the police and the city's youth, Woods closed off city blocks to serve as "play streets" for urban youth, and Sweeney organized the Junior Police, an organization that taught discipline and good citizenship. PAL originally provided a forum for off-duty police officers to coach youngsters how to play various sports. In the 1960s and 1970s, a number of chapters, responding to changing times, added choir, dance, drama, photography, art, and poetry programs that continued into the 2000s.
PAL of Philadelphia originally consisted of only one Philadelphia Police Department sergeant, August "Gus" Rangnow (1892-1972), who oversaw PAL's sandlot baseball program. By the 1960s, with the help of prominent athletes and coaches as volunteers, the Philadelphia PAL had nineteen centers across the city offering a variety of after-school programs, including ceramics, arts and crafts, baseball, football, basketball, and boxing. The Twenty-Third district PAL at Twenty-Second Street and Columbia Avenue served as a training facility for well-known Philadelphia professional boxers such as Bennie Briscoe (1943-2010), Joe Frazier (1944-2011), Gypsy Joe Harris (1945-90), Jimmy Young (1948-2005), Bobby Watts (b. 1949), and Tyrone Crawley (b. 1958). Frazier, a 1964 Olympic Gold Medalist and former World Heavyweight Champion, received his first boxing lesson in a PAL ring.
Mayor Frank Rizzo's Support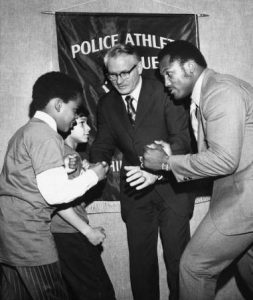 Joe Frazier (right), who received his first boxing lesson in a Police Athletic League ring, poses with PAL members and Police Commissioner Joseph O'Neill in 1972. (Special Collections Research Center, Temple University Libraries)
Philadelphia Police Commissioner and Mayor Frank L. Rizzo (1920-91), who saw the organization as a valuable tool for promoting good citizenship and deterring juvenile delinquency, strongly supported PAL. As commissioner, he assigned some of his top officers to serve as coaches and mentors. During Rizzo's term as mayor, PAL served as many as thirty-five thousand children, generating donations of financial gifts and tickets to professional sports events. In Rizzo's first year in office, a delegation of local PAL youth met President Richard Nixon (1913-94) in the White House. PAL of Philadelphia also became well-known for promoting patriotism through pledges of allegiance to the United States. Young people involved in PAL signed oaths of allegiance, which were sent to the mayor's office, and at times, on to other state and national politicians.
Although concerns about liability forced PAL of Philadelphia to shut down its boxing program in 1986, the organization continued to offer other after-school programs to the city's youth. In 2017, with a Philadelphia headquarters at 3068 Belgrade Street and an additional eighteen PAL centers throughout city, the organization offered twelve athletic programs, including baseball, basketball, indoor soccer, and wrestling. After-school education programs included mentorship, homework clubs, and literacy programs. PAL also offered a number of special events such as PAL Night at the Phillies and PAL Day at City Hall.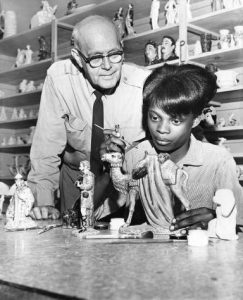 A Police Athletic League officer instructs a teenager in ceramic sculpting, part of an expansion of PAL programs into arts programs during the 1960s. (Special Collections Research Center, Temple University Libraries)
The greater Philadelphia area was home to a number of other PAL locations. The Atlantic City PAL, opened in 1972, housed one of the East Coast's finest boxing programs, which produced numerous amateur and professional champions such as Leavander Johnson (1969-2005) who held the IBF World Lightweight Title in 2005. This Atlantic City PAL gained notoriety as the temporary training grounds for out-of-town fighters such as Evander Holyfield (b. 1962), Mickey Ward (b. 1965), and Mike Tyson (b. 1966) leading up to marquee bouts at Boardwalk Hall. Besides boxing, the Atlantic City PAL ran a variety of athletic and educational programs for city youth such as Foosball and a computer lab. Police Athletic Leagues also sprung up in urban areas around Philadelphia such as Camden (founded in 1973) and Wilmington (founded in 2002).
In the Phoenixville, Pennsylvania, area, former professional boxer and Schuylkill Township police officer James "Jimmy" Deoria (b. 1970) founded a PAL in 1999. Like many police officers before him, Deoria was inspired to give local youth a place to go and stay off the streets. Former welterweight boxing contender Ronald Cruz (b. 1986) trained in this gym before being forced to retire due to an eye injury. Although the Phoenixville Area PAL began with boxing, it expanded to other programs such as golf and babysitting classes.
Since its inception, the Philadelphia PAL had a direct impact on decreasing crime in areas of traditionally higher crime in the city. From 2010 to 2012, juvenile arrests decreased by 39 percent near the Harrowgate PAL and 16 percent near the Oxford Circle PAL.
From 1947 to 2017, residents of the greater Philadelphia Area witnessed the expansion and evolution of the Police Athletic League throughout the region. Despite changes in programs over its long history, the organization maintained its central commitment to providing a safe place for children to hone their athletic, academic, and social skills, thus living up to PAL motto, "Cops Helping Kids."
Matthew Ward is a graduate student in History at Rutgers University—Camden. He graduated from Arizona State University in 2007 with a B.A. in History and Culture. He has worked in financial services for over seven years and serves as a commissioned officer in the U.S. Army Reserve. He is also an Army veteran who served in support of Operation Iraqi Freedom from 2010 to 2011.