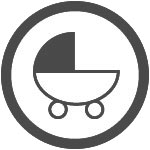 Babysitting
Instructor(s):
Toni Stuetz
,
Jimmy Deoria
Questions?
Contact Us
This class is open to new and experienced babysitters, 11-16 years old, and focuses on basic caregiver techniques, rules, first aid, and safety. Youth learn babysitting "Dos and Don'ts" and how to act responsibly even in emergency situations. Safety and nutrition, as well as feeding and diapering are also taught. A babysitting course certification is awarded to youth who successfully complete the program.
Upcoming Event:
PRESS RELEASE Contact: Toni Stuetz
FOR IMMEDIATE RELEASE Telephone: 610-696-3500
Date: May 26th , 2015 Email: tmm113@psu.edu
The Phoenixville Area Police Athletic League (PAL) and the Chester County 4-H are working together to host a one-day babysitting training class at the Phoenixville Middle School on June 19, 2015, from 9:00 a.m. to 4:00 p.m. The class is open to new and experienced babysitters, 11 to 16 years old, and will focus on basic caregiver techniques and rules, first aid and safety.
A licensed, professional emergency medical technician will provide an overview of first aid and CPR techniques. Attendees will learn babysitting Dos and Don'ts, the importance of safety and nutrition, as well as feeding and diapering techniques. The basic growth and development of infants, toddlers and school-age children will also be covered. The cost for the class is $10, which includes an activity book, course certification and a snack. Students should bring their own lunch.
"Babysitting is a fun and rewarding way for teens to earn money, but it is also very demanding and unpredictable," said Officer Jim Deoria, executive director of the Phoenixville Area Police Athletic League. "Caring for someone else's child is a huge responsibility which requires training and skills. This class teaches the must-know techniques to act responsibly even in an emergency situation."
"We take the business of babysitting very seriously, remarked Toni Stuetz, Chester County 4-H coordinator. "Parents want knowledgeable, confident babysitters that are equipped to handle the important role of caregiver. We cover the basics of babysitting but also place a huge emphasis on safety and being prepared."
The deadline to register is June 12th, and pre-registration is required. To register or for more information, contact Toni Stuetz at the 4-H office 610-696-3500 email: tstuetz@psu.edu or Jim Deoria at the PAL 610-917-3735 email: paljimed@yahoo.com. Payment will be collected at the beginning of class.
About The PAL
The Phoenixville Area Police Athletic League is a nonprofit organization dedicated to preventing juvenile crime by mentoring and coaching youth, ages six though 21, from the Phoenixville, Royersford and Spring City communities. PAL offers a variety of after-school enrichment and athletic programs that teach life values and civic standards by engaging youth in active, healthful activities.
About Chester County 4-H
4-H is a community of young people across America learning leadership, citizenship and life skills. Chester County 4-H is an informal education program for youth ages 8-18, designed to teach youth life skills. Our organization is built on the subject matter projects developed by Penn State Extension and the National 4-H Council.
Upcoming Schedule
No scheduled classes for this activity right now. Use the form below to be notified when the next class is listed.